THE FIRE OF 2008: NORTHRIDGE/PORTER RANCH, CALIFORNIA
While I enjoy my IHC home everyday, it seems I only write when I have a story to tell. You may remember that 15 years ago our home survived a 6.7 earthquake and came out completely unscathed, except for a single floor tile that cracked under the weight of the contents of the cabinets.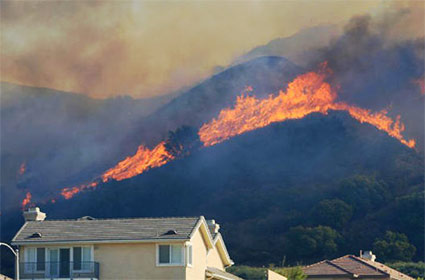 Porter Ranch Fire, Public Domain, USGS
Now I would like to tell you that on October 15, 2009, a massive fire raced through our neighbourhood and caused mass destruction. Yet our home still stands, unlike so many of our friends and neighbors. The fire started early in the morning about 5 miles away, soon dropping into a canyon. I was fishing with my son when I received a call from a friend about 10:00 a.m. He told me where the fire started and that it had dropped into Limekiln Canyon. That was all I needed to know, as that canyon runs into Browns Canyon, and Browns Canyon ends at my back door. As I live in a Class III fire zone, brush fires do not alarm me much after 26 years. But when I pulled into my driveway, and realized the carnage that was approaching, to say I was worried would have been an under statement.
With only minutes to get pets and personal belongings, my son and I sprung into action. Within minutes the fire was racing down the canyon towards us, the winds were howling, and you could not see more than a few feet due to a glowing ember storm raining down from the sky. As my son loaded the truck, a fire department helicopter dropped to within 20 feet from the ground. After a couple of short beeps to get our attention, his voice crackled over the loudspeaker "run for your lives". At that point I turned to see several homes across the creek fully engulfed in flames, with a huge fireball bearing down on us as we drove to safety. Read more...
I soon returned to see if I could help, walking up through the neighbourhood was like walking through a war zone. Homes burning almost everywhere you looked. Firemen doing their best to save what were not already the charred reminisce of a family's life, their home, cars, even animals destroyed by a wind pushed blaze.
I met up with a friend and neighbor while still a block from my home, with tears streaming down his face, he told me that he lost everything, but that my home was fine. As we made our way past police and firemen, he told me of his trek to my house when it was obvious his home was a total loss.
As we walked onto my property, I could see all my landscaping scorched, the heat emanating from the ground was melting my shoes, and there were spot fires everywhere. I looked up at my house, and could see that there was virtually no apparent damage. The front of the house had areas that were singed, and the deck furniture was burnt, but the front seemed, well, fine.
I entered the house not really knowing what to expect. The interior was filled with smoke so thick, you could not see. I had a powered venting system that literally melted on the roof, leaving a 6" X 14" hole that emptied into the master bedroom. The bedroom was covered with burnt leaves, and ash. It is amazing that the interior did not catch fire.
After a complete examination, my home suffered smoke and ash damage inside, I lost my rear deck, and the side facing the fire had most of the stain ruined from burning embers the wind had driven into the home, and the aluminum casing around some windows melted from the heat. But, the structure was sound, and aside from some smoke remediation, there was no other damage inside.
The outside deck has been replaced, and we are starting to prep the outside for re-staining. But, our home has once again proved to be a cut above the rest. My family and I thank you for designing a building system rugged enough to withstand first earthquakes, and now a massive fire. Hide story. ↑
— Contributed by Scott R. Schiffman